KIMONO OBI RUNNER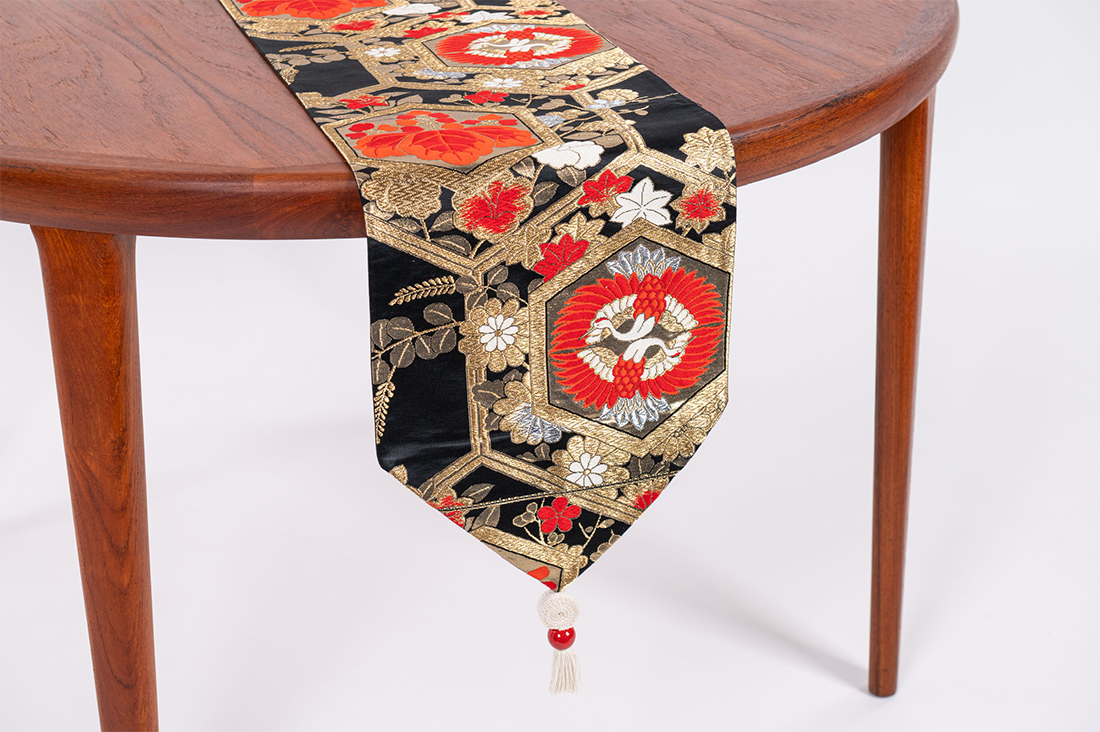 Have the lonely days without that family, friends or lover passed?How fun it would be if you were here for those casual conversations and special nights. And when that person comes to the house next time, you will want to serve up an unforgettable experience. The beautiful Japanese fabrics that we sell imbues these various wishes in their patterns and designs. "Wishing you the best", "Stay safe", "To my dear …" Wouldn't you like to experience these magical moments with your special someone as you tell them about their profound meanings? We hope your wish comes true.
ずっと逢えなかったあの人と、久しぶりに逢えるかもしれない。気のおけないおしゃべりが弾む特別な時間。どんなに楽しいでしょう。 そんな大切な人をお迎えできる時、忘れられない最高のおもてなしをしたいと願うのです。ご紹介する日本の美しい織物たちには、その柄や模様に様々な想いが込められています。 「あなたが幸福でありますように」「あなたを守っています」「愛しい人へ」・・・ そんな趣のあるメッセージをテーブルに宿し、大切な人と過ごす時間はいかがですか?あなたの願いが叶いますように。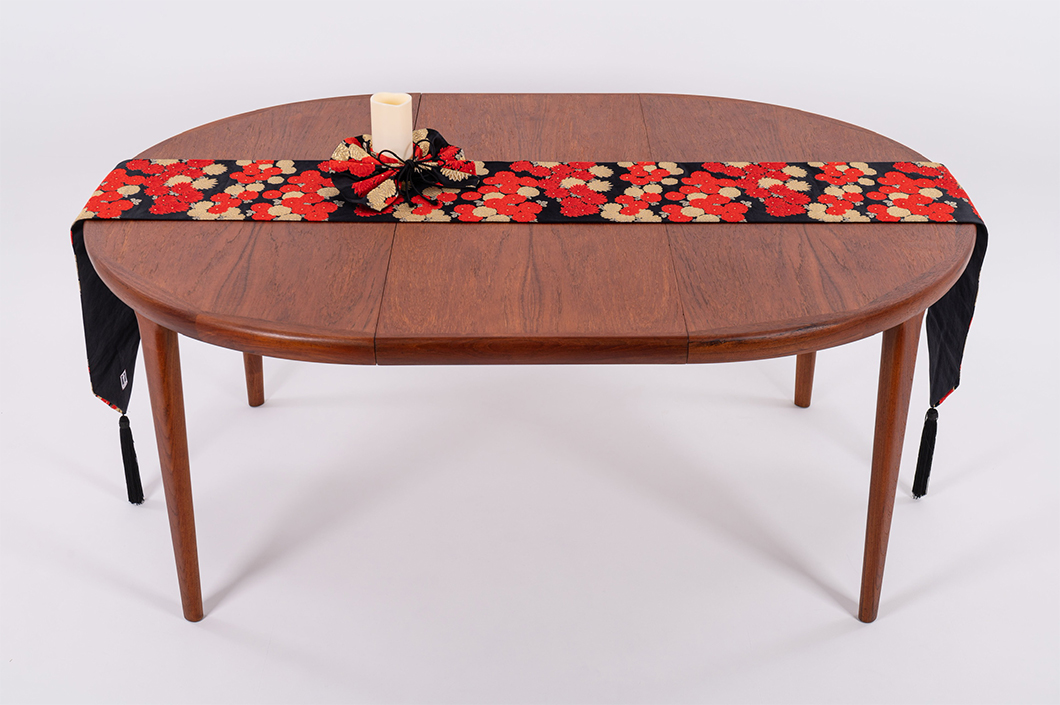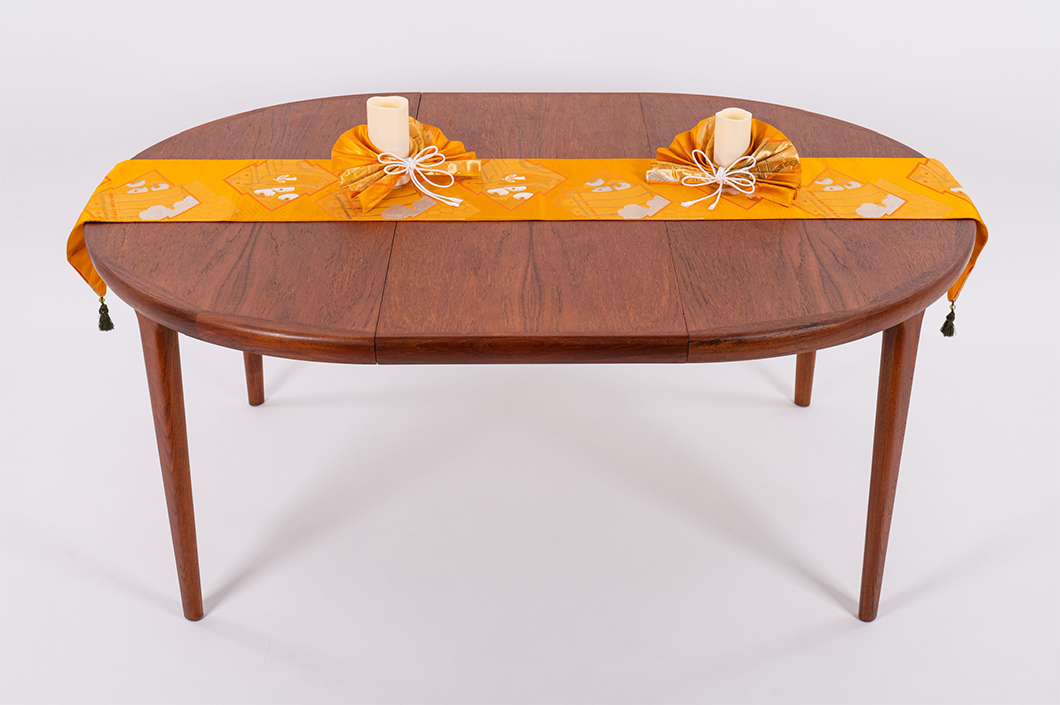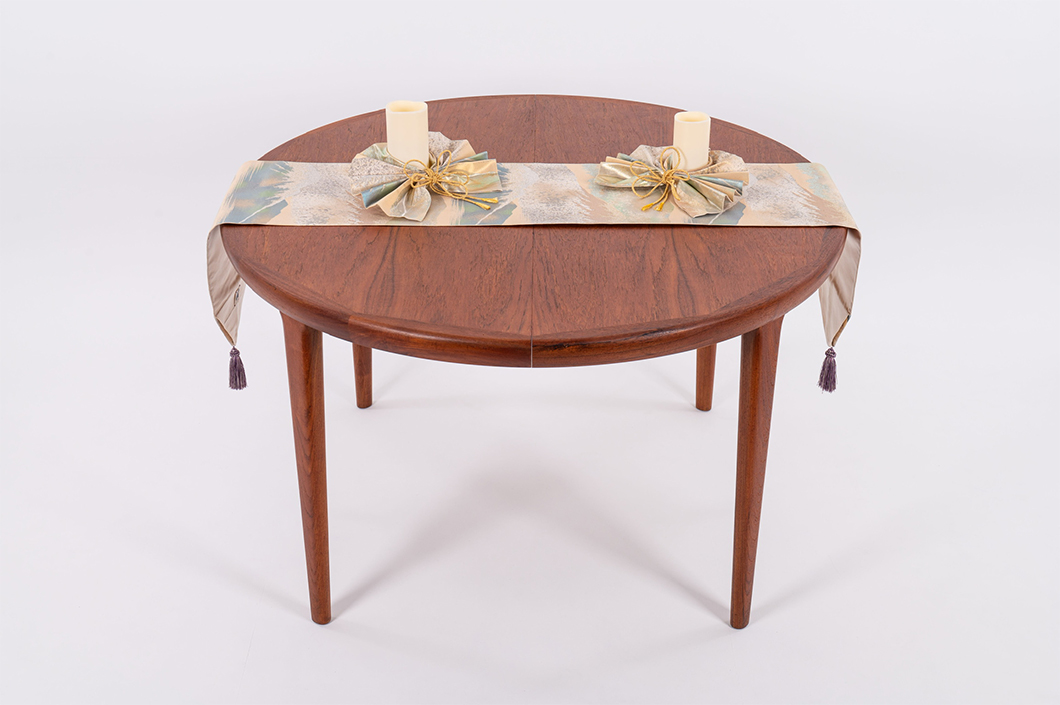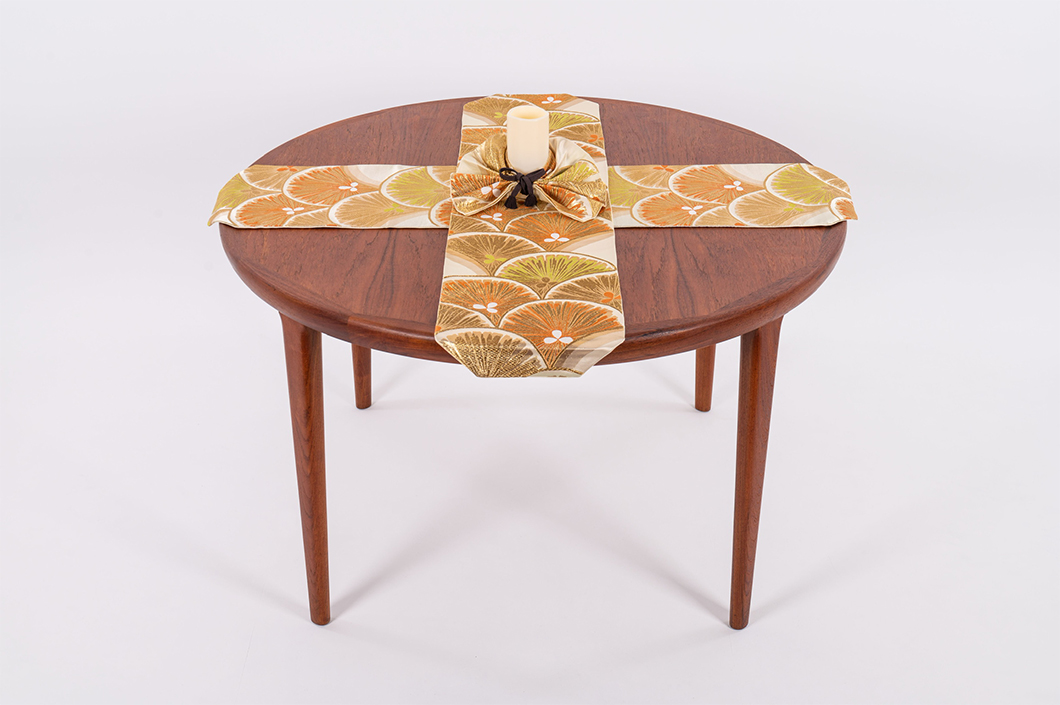 We have made folding fans using ornamental knot techniques to accompany certain products. Please enjoy this additional "specialty" item made from a single belt like our flower and candle ornaments.May your living or dining room be enriched with an air of elegance—this is the wish we've poured into our crafts.We have started accepting custom orders due to customer demand, allowing you to select a custom belt and length. Please consult with us for details.
一部製品には付属品として飾り結びの手法を用いた扇をご用意しました。花や蝋燭の装飾など一枚の帯から生まれたもう一つの〝特別"をお楽しみ下さい。お客様のリビングやダイニングが豊かで気品ある場所になりますように…そんな願いを込めました。ご要望により帯の選択や長さの調整等カスタマイズも承っておりますのでご相談下さい。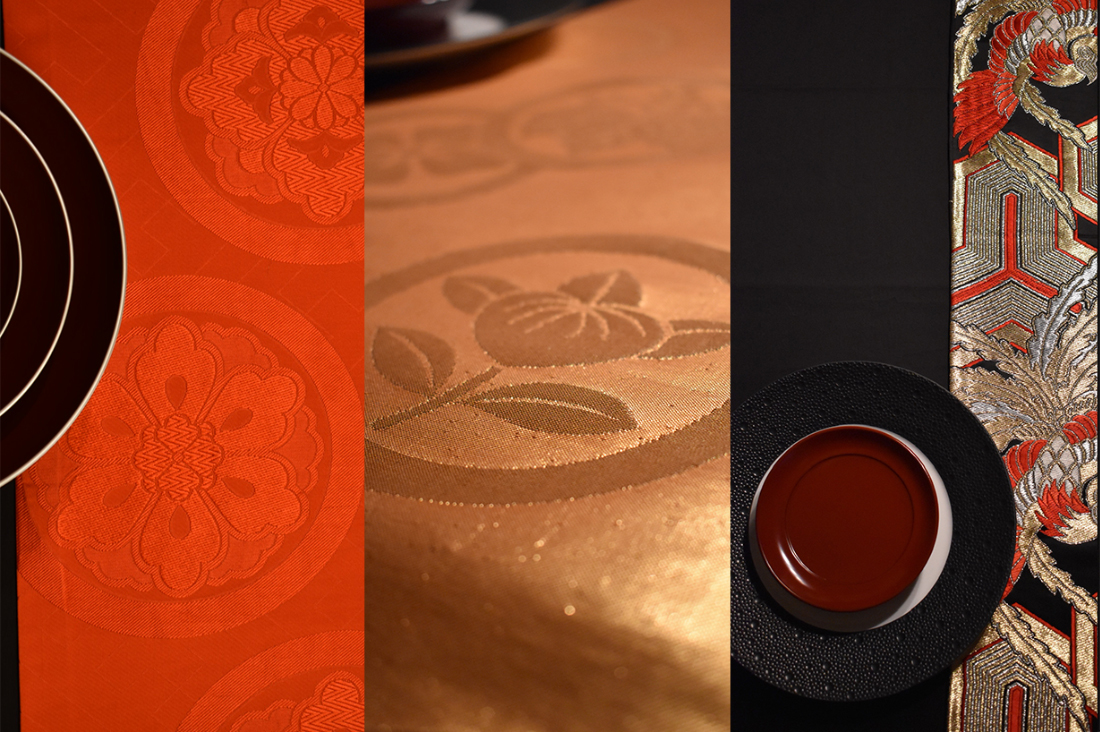 We have chosen valuable vintage designs that many women have loved,to help enrich your modern life.These items are a one and only original piece Of work.The texture only by the vintage is an important story of this OBI,too.
貴重なヴィンテージ品や女性達に愛されたデザインをセレクトし、現代の豊かな生活に更に潤いを与えるような、世界に一つだけのオリジナル作品に仕上げました。ヴィンテージならではの風合いもこの帯の大切な物語です。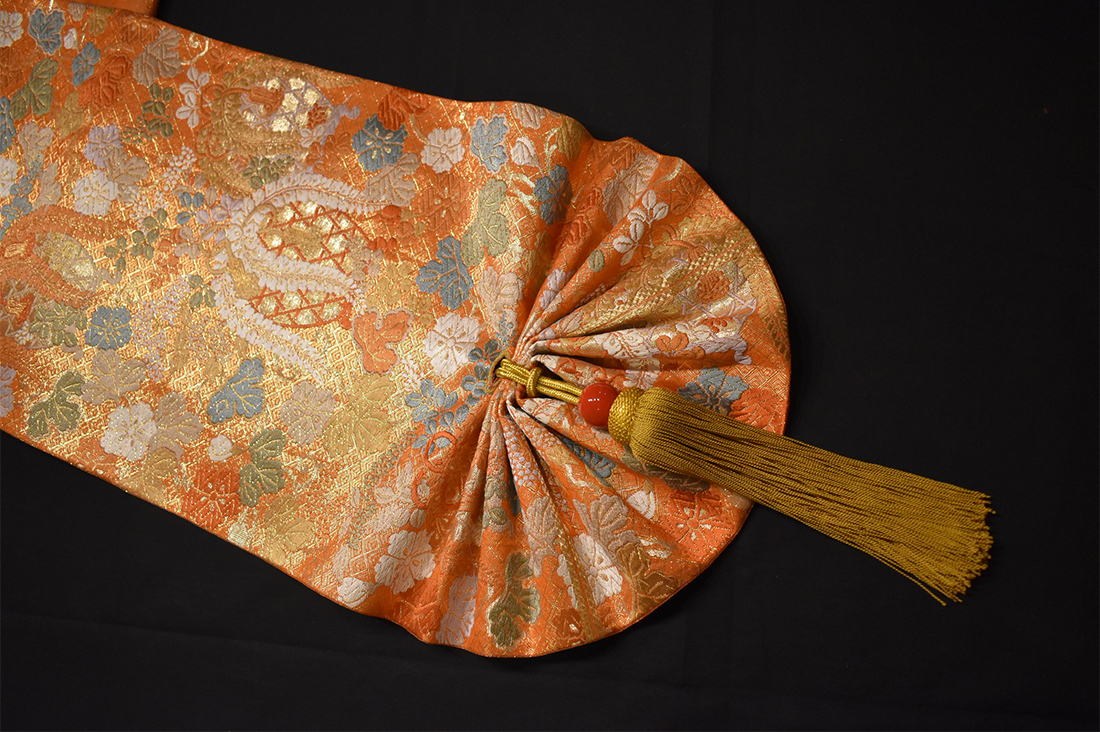 Silk products are very delicate. We have treated our products with water-repellent so you can use our products with peace of mind, but this does not make them completely waterproof. If water or dirt gets on the product, immediately use a soft cloth to clean it without rubbing. Please see the user's manual that comes with your product for details. You can dry clean the silk in order to maintain it, but we recommend sending it to us, as we ensure that we will treat your product with the utmost care.
絹製品は大変デリケートです。安心してお使い頂けるように製品には撥水加工を施しておりますが完全防水ではございません。水分や汚れが付着した時は直ぐに柔らかい布で擦らずに吸着させて下さい。詳細は製品に付属の取扱説明書をご覧下さい。お手入れは絹のドライクリーニングが可能ですが私達迄お送り頂ければ最善のケアをお約束致します。